Breaking down the room: Offensive line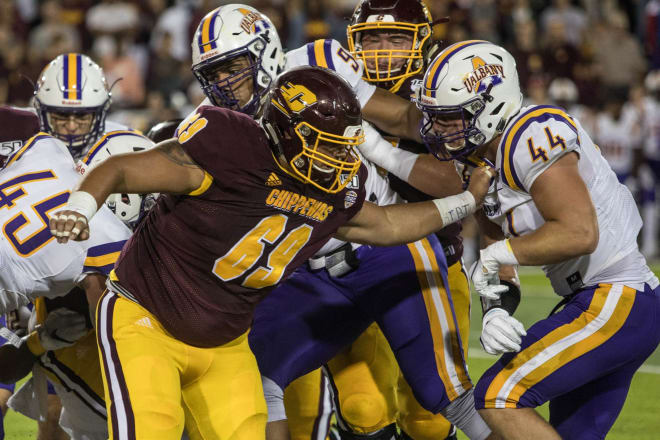 Central Michigan has been on a recruiting hot streak recently when it comes to offensive linemen.
When former line coach Mike Cummings returned to the program in 2019, fans of the program were ecstatic knowing what he would bring to the table. So far, it's already paid off tremendously, and with the extra year of eligibility due to the pandemic the Chippewas are building something special up front.
Under the John Bonamego regime the offensive line was a big struggle for CMU, and it really showed on gameday when the quarterback was being consistently rushed and hit, often resulting in turnovers or injury. Fast forward to 2021, and the Chippewas have one of, if not the best offensive line in the Mid-American Conference.
Senior Derek Smith is back for one more season to anchor a big time returning group that has helped CMU have two 1,000-yard rushers in 2019, followed by helping running back Lew Nichols win Freshman of the Year in 2020. He has started 30 games since his redshirt freshman year in 2017, including every game over the past two seasons. He's played multiple positions on the line in his career, and is expected to assume his right tackle position once again this fall. Smith is the only senior offensive lineman on the roster.
Former tight end Bernhard Raimann made the transition to left tackle last season and it went as well as it could have. He started in all six games, receiving All-MAC honorable mention from Pro Football Focus, and All-MAC Fourth Team honors from Phil Steele. At 6-foot, 7-inches Raimann was a perfect fit to transition to tackle. He's an athletic big game with a ton of potential for the position.
In the middle of the line is where you will find a ton of talent for the Chippewas. Guards Danny Motowski, Deiyantei Powell-Woods and Tyden Ferris are once again expected to share the load up front. All three are still just sophomores, entering their third year with the program. Jamezz Kimbrough is expected to start at center again this fall after starting all six games last year at the position. The former recruit out of Illinois has really found a home at center after shuffling around his first few seasons with the team. Hudson Valley Community College transfer Aarion Harvey, a junior transfer, could be in the mix to see some time in the middle of the line as well.
Who else could make an impact this season?
True freshmen Braden Doyle, Ronnie Novosedliak and Keegan Smith will all be expected to redshirt (meaning they can appear in up to 4 games). Junior Luke Goedeke, who missed all of last season due to injury, could see some time this year on the line. Redshirt freshman Vashon Bailey, who was a highly touted recruited coming out of high school, appeared in one game last year and could be in line for more time in 2021. Albert Jespersen and Cade Klimczak are a pair of redshirt freshmen that could also see some action for the Chippewas.
No matter how the starters shake out, the Chippewas have depth and will likely be rotating linemen all year on the offensive side of the ball. Don't be surprised if they prove to be the best group in the conference this fall.