JUCO corner Herzel Glashen will visit CMU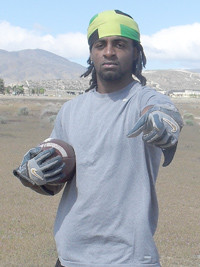 Central Michigan was able to snag one talented player from El Camino C.C. (CA) earlier this summer when defensive tackle
Odino Etienne
committed to the Chippewas. Etienne will provide some experienced help along the defensive line and has already seen plenty of reps in practice. With him in the fold, CMU is once again looking towards California for players, and they have their eyes set on defensive back
Herzel Glashen
, a 2011 prospect who has drawn early offers from CMU, Illinois, Northern Illinois and Eastern Kentucky.
"Cincinnati is also showing me some interest, then Rutgers too," added Glashen. "My brother plays at Rutgers and they had a fan day recently, and he told me all the fans and coaches were talking about me and everything. But really, god has blessed me to have all these offers and I think I'll add more because a lot of coaches are waiting on my next film."
With family connections at both Rutgers and Central Michigan, Glashen has some strong bonds to both the Chippewas and Scarlet Knights. Even so, he insists he is still wide open right now and has no favorites.
"I'm open to every school right now, you know today I talked to a Division II school and listened to what they had to say," added Glashen. "I don't really have any schools I like, I'm just looking to get an education and further my life. And it's not about who you like, it's about who likes you. Some schools may offer you a scholarship and the chance to compete right away, and some schools just want you to come in and provide depth. It all depends on the situation."
As far as his connection with his cousin Odino Etienne, the two have not had a ton of contact since CMU started camp.
"I hear he is doing pretty good, think he has #95 or something like that," said Glashen. "I have tried to not bother him and everything and let him stay focused for camp. But we send bible scripts back and fourth to each other to make us stronger in our journey because we've come so far, but other than that I haven't spoke to him much. He's always telling me that I'm just going to go to Rutgers to play with my brother, but it all depends on what is the best situation for me, and if Central Michigan is the best situation then I will be a Chippewa."
Etienne did share some of his experiences at CMU with his cousin the last time they spoke though.
"Well, I really want to further myself in academics and Odino was telling me they have some really good teachers at Central Michigan. He has some English teacher who has been very helpful to him, and I think it was the same teacher Antonio (Brown) had when he was there, so I've been meaning to call him up and ask him a few questions also."
For a player who is looking for immediate playing time, a call to his cousin may reveal some intriguing news about the Chippewas depth in the secondary. Although they did not lose any projected starters, CMU is a tad thin at corner with Gary Jackson, D.J. Scott and Evan Ray all leaving the program prior to the summer.
"No, I did not know that," said Glashen when asked if he knew about the Chippewas losses at corner. "I know they still have
Lorenzo White
at corner, but I'll have to ask him and Odino to learn more."
As for his timetable, Glashen fully expects to take all five of his official visits before he makes and decisions, but Chippewa fans can rest assure that one of his visits will be to Mount Pleasant.
"Yeah, I'm going to take all five, but I'm 100% sure I'm going to take one of them to Central Michigan," said Glashen. "I haven't planned anything yet because I've been so busy talking classes and working out, but I will definitely be visiting CMU."
Glashen is all set to enroll early in December and at 5-foot-11 and 190 pounds, he brings the size, speed and maturity needed to make an instant impact at whatever program he selects.
Stick to ChippewaCountry for the latest in CMU athletics and recruiting.